CUBES offer restaurant POS management, restaurant POS software in Dubai, UAE, Point of Sale, best POS systems for restaurants for restaurant manager to take control of their inventory and labor. Our restaurant pos software dubai, restaurant pos system dubai is intuitive and user-friendly so that you, the manager and your employees will be experts within a short span of time. Customized workflows help the point of sales to mold to your business, and our enterprise-grade software is ideal for restaurants of any size. It is robust for harsh environments, and advanced API integrations give you all the tools you need. Our software will work in any bar or restaurant and can effortlessly handle multi-concept operations.
Restaurant POS Software Dubai Features
Restaurant POS Software Dubai is integrated with CUBES INVENTORY for easy recipe management
Customize ordering menus to fit your way of doing business
Customer Loyalty System, to award frequent patrons with points and give discounts is also available in CUBES RESTO Software (Additional Option)
Capable of printing an item into multiple kitchen printers
Supports use of a Kitchen Display System
Supports Arabic
Supports addition of Service Charges/Tax
Has multiple discount options and happy hour pricing
Re-arrange tables similar to your restaurant layout
Allows definition of sides options (i.e. Vegetables, Salads, Dressings, Soups, Potatoes, etc.)
Our Restaurant point of sales software is created for:
Casual and Fine Dining Restaurants in Dubai
Fast food
Ice-Cream Parlors in Dubai, UAE
Refreshment Centers in Dubai
Food Kiosks
School Canteen
Catering
Bars / Clubs
Modules included in the restaurant point of sales system:
Dine-In
Quick Sales
Delivery
Advanced Orders
Bar Tab
Reservation
Cashless Service for School Canteens
Wastage
KOT Status Monitor
Dashboards
Customer Account Management
Link with Call Centre Module (Additional Option)
The hardware of the point of sales system is Integrated with:
Touch Operated Screens
Cash Drawers
Customer Pole Displays
POS Receipt Printers
POS Kitchen Printers
Dual Displays
Tablet Devices
Caller ID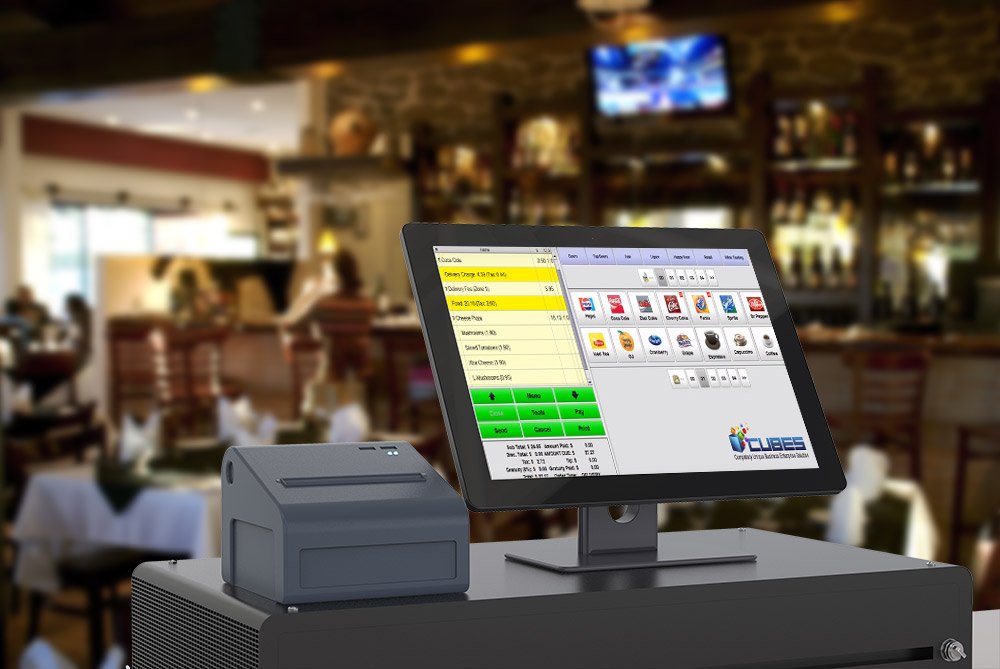 Advantages of Restaurant Management Software in Dubai, UAE
Single Place Management
The restaurant management point of sales software can be customized to single place management. This type of management helps in providing efficiency in their functional services. This feature of pos software for restaurant Dubai helps in the effective ordering of the products where the inventory can be managed without functional technology.
Inventory and Stock Management
The inventory management in the restaurant supply chain consists of goods as it travels through the supply chain. This function of our restaurant software Dubai helps the company in the stock mix and also to meet the different demands of the customer concerning inventory.
Elevate Your Customer Dining Experience
The restaurant management software helps in elevating the customer experience by providing top class restaurant services. The restaurant software Dubai enhances the customer service and improves efficiency. The dining experience is hassle-free and organized due to advanced booking and seat reservations.
Custom Features
There are also other features provided by CUBES which improve function and strengthen the establishment of the restaurant in the customer's view. These are customized features of this restaurant manager pos dubai software that offers the restaurant manager integrated menu, sales, employees, and inventory.
How Restaurant POS System Works
Process and Cost of Having a POS System
Schedule Meeting
CUBES will arrange a meeting with the client for understanding the requirement of the restaurant software Dubai.
Quotation
A quotation is provided to the client after understanding their needs on creating a customized restaurant POS software.
Signing Contract
A signing contract is developed on the consent of the company and customer. Both parties sign the contract to deliver the best pos system for restaurant Dubai to the customer.
Point of Sale Systems for Restaurants Features
Our restaurant POS software in Dubai is simple to learn and easy to use. The POS system can be customized according to the needs of the restaurant staff. The features that a point of sale for restaurant must have are:
Complete Billing Operations
Billing operations of any business demand a lot of accuracy in tallying while mapping the cost of each ordered item. Considering the complexity of complimentary items and extra charges to be levied, the online POS system will align your tasks of billing and receipt generation through smooth navigation.
Reservation of Table
Reserve or pre-book a specific table for a date and time and mark a table "in use" when you have assigned the table to walk in customers. Add table number to your customer's invoice for easy tracking.
Menu Management and Tracking
Create and manage multiple menus for your restaurant and render an exceptional experience to your guests.
Inventory and stock management
With the right restaurant POS features, restaurant inventory and stock management does not have to be so daunting.
Daily Sales Report
The sales report dashboard on your POS provides an overview of all transactions completed daily.